---
---
14 days risk-free guarantee

Free shipping worldwide from $40

Available 24/7 for all your questions

Insured Delivery with Track & Trace
---
Description
Looking to update your old bicycle helmet or get a new helmet with amazing features? Well we have exactly what you are looking for and even more!
Our Bicycle Safety Helmet not only ensures your safety but looks awesome too!
With USB charging point for the light source, our waterproof and shockproof safety helmet is a modern and better twist to the old bicycle helmets. Our Bicycle Safety Helmet not only has multiple functions but looks very modern and well put. It is simply the answer to all bicycle owners having helmet troubles!
Safety Features
This bicycle safety helmet provides a wide range of safety precautions. Being made with high-density protective material, it ensures the safety of the rider. High-quality PC material & multi-density EPS foam with reinforced frame for additional safety and integral moulding technology, integrated edge-wrapping design help the bike helmet a well performance.
Waterproof and Shockproof
Our bicycle safety helmet is one of the best in the market in regards to being waterproof and shockproof. It is integrally molded which prevents water or any electric or external trauma to reach the head.
Insect-Resistant
It also has an integrally built insect net that resists insects while riding.
USB Charging
It has its own USB charging point for the light. No extra batteries are needed in this product.
Lightweight
It is extremely lightweight, weighing around 330 grams. It enables almost no pressure to the head while cycling ensuring a safe and comfortable ride. Lightweight bike helmet designed for road mountain cycling, kept the weight to an absolute minimum without sacrificing safety.
Magnetic Buckle and Chin Strap
Innovative design: upgrade magnetic buckle replace the traditional buckle will provide more convenience for wear & release cycling helmet. Upgrade chin strap: Fixed side strap anchors provides a perfect fit every time. The special adjustment button on the chin strap can be adjust easily, you can loosen & tighten the chin strap with one hand easily.
Reduce Wind Resistance and Ventilation
This product has a wind tunnel duct design. This duct design effectively reduces wind resistance and ensures a safe travel. Unique aerodynamic design for this means bike helmet has 25 massive breathable vents will offer optimal airflow and minimal wind resistance, which can reduce air resistance effectively and save your energy during the bike riding. Reduce sweating and keep cool.

Lights
Our bicycle safety helmet has a head lamp, a single side light & rear warning light. All these act as warning lights to other transports in the dark roads and all helps the rider to see in the dark, thus preventing accidents.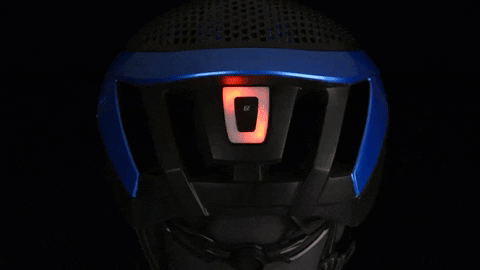 Battery
The battery itself is 2000 Milliampere. The battery time: Mighty about 4 hours, Low about 9 hours, Flash about 24 hours. Only side & rear warning light about 1 month
Features
High-density protective material.
100% High Quality Material
Integrally-molded helmet, ultralight, adjustable.
Senior Intergrated-Moloded lining with insect net.
Wind tunnel, duct design, effectively reduce wind resistance.
With head lamp and single side & rear warning light
THIS PRODUCT IS NOT AVAILABLE IN STORES!
Due to the
enormous popularity
on social media, we expect to sell out quickly,
so be quick, because we're almost sold out!
Our customers recommend the Bicycle Safety Helmet and we support that with a risk-free 14-day warranty.

If for any reason you don't have a positive experience, we'll do EVERYTHING to make sure you're 100% satisfied with your purchase.

If you're not happy with the Bicycle Safety Helmet - no problem. We'll transfer the money back to your account. We have 24/7 email support. Contact us if you need help.
Specifications Bicycle Safety Helmet
| | |
| --- | --- |
| Material            | EPS |
| Type | Light Helmet |
|  Weight | about 330 gm |
| Color | Red, Black, Blue, Yellow, White |
| Size | Circumference 57-62 cm |
| Gender | Male/Female/Unisex |
| Power | USB charging |
| Age Group | Adults |
| Style | Bicycle Helmet, Cycling Helmet, Bike Helmet |
Package Includes: Cycling Safety Vest
| | |
| --- | --- |
| 1x | Cycling Safety Vest |
| 1x  | USB Cable |
Our Team Guarantees
Ensures you
safe payment

Ensures you
24/7 support


Ensures you
Satisfaction

Payment & Security
Your payment information is processed securely. We do not store credit card details nor have access to your credit card information.