---
---
14 days risk-free guarantee

Free shipping worldwide from $40

Available 24/7 for all your questions

Insured Delivery with Track & Trace
---
Description
Are you having a hard time trimming your pet's hair because the device you're using is too loud? Do you have to drive to the pet shops or veterinary clinic just to give them some hair trims?
You always have a hard time getting your dog or cat some hair trims because the trimmer you got makes too much noise and they either get mad or frightened of the sound. You end up having to spend some time, money, and effort to bring them to a professional for a simple hair trim that you are capable of doing if only you have the right tool.
Well, look no further now! We have an easy, smart, and affordable way for you to be able to give your pet a hair trim at the comfort of your home!
With our Wireless Pet Hair Trimmer, you can cut the hair of your cats, dogs, rabbits, or horses like a professional. Whether you need to shave them to treat a skin condition or to make them more comfortable during the hot summer months, this pet grooming kit won't disappoint!
✅ Quiet and Precise
Thanks to a combination of titanium and ceramic blades, Wireless Pet Hair Trimmer offers amazing precision control and powerful cuts. The low-vibration motor has a working noise of less than 60 dB, so your pet will feel safe and secure while you shave their hair.

✅ Cordless design
Forget about twisted cables or lost adapters. Wireless Pet Hair Trimmer is equipped with a charger and can be used continuously for up to 150 minutes. Feel free to travel with your lovely pet anytime and anywhere and never worry again if you need to cut their hair or give them a little trim on the way.
✅ Adjustable Combs
The adjustable clipping comb is applicable for clipping hair of different lengths; and the detachable guide combs make for quick, easy comb changes and increased versatility. With 4 attachment guide combs: thinning-out, (3mm/6mm/9mm/12mm,) skin-friendly contour-following combs make it safe, easy, comfortable.
✅ Easy To Use

Our professional dog clippers are advanced and very user friendly; Included in this dog grooming tools kit we provide various level combs (3-6-9-12mm); With these limiting combs you can safely trim your pet even if you've never done it before; In addition, when you purchase this dog hair trimmer you'll receive adjustable titanium blades ranging from 2mm - 0.9mm for any kind of adjustment on hair length.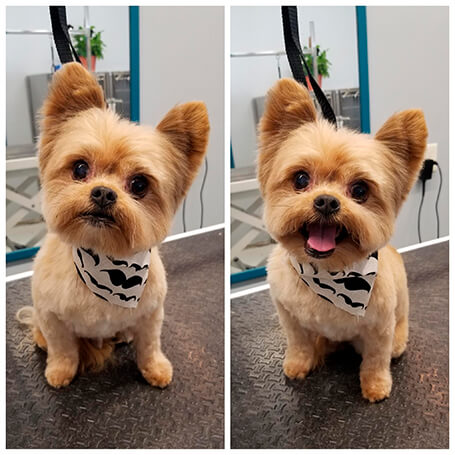 ✅ Affordable
Aside from the fact that our Wireless Pet Hair Trimmer is better in terms of durability, we give you the best and affordable price with a guarantee of the satisfaction that you deserve. 
✅ Over 800+customers love it! 
We have sold 800+ units of our Wireless Pet Hair Trimmer in a month across 5 different countries and our customers love it! We have had repeat customers buying multiple devices to have reserves and some gave them as gifts to other pet owners they know. We know the demand so we are offering our product at a 30% discounted price than the other generic devices. We have limited stocks left, so take advantage of this offer now before it is too late!
Our Team Guarantees
Ensures you
safe payment

Ensures you
24/7 support


Ensures you
Satisfaction

Payment & Security
Your payment information is processed securely. We do not store credit card details nor have access to your credit card information.