---
---
14 days risk-free guarantee

Free shipping worldwide from $40

Available 24/7 for all your questions

Insured Delivery with Track & Trace
---
Description
Searching a swimming pool for your pet to bathe in or just enjoy during the hot summer days?
Look no further because our Foldable Pet Swimming Pool is just what you need!
Our Foldable Pet Swimming Pool is a portable swimming pool, perfect for animals to enjoy a fun and relaxing summer bath. Ideal as a swimming pool for dogs and other animals (ducks, hens, etc)!
Large and Compact
With a diameter of 50 inches and 12 inches deep, it is a pretty big pet pool. But since it is foldable, it can be stored in a compact space.
Durable
Constructed from extra-tough PVC material and made for a long-lasting use. Perfect dog toy or pet toy for your animal!
Simple Use
Simply fill with water and open sealed drain to empty before storage or transportation.
Fun
Give your dog or cat something to enjoy in the summer heat and it's large enough for you to hop in as well acting as a mini pool. Can also be used for a pet bathing tub.
Slip-resistant and Durable
It is made of extra-tough PVC. Has a thicker slip-resistant material on the bottom
Portable
The pool drains and folds up and is easy to transport to bring with you and your pet everywhere. Foldable, easy to store and bring with you and your dog everywhere.
Multi-functional
Can also be used as a pet pool, pet bath tub, outdoor water pond, fish pond, baby bathtub.
Simple
No need of inflation, set up in no time. With bottom/side drain, it's easy to drain and refresh water.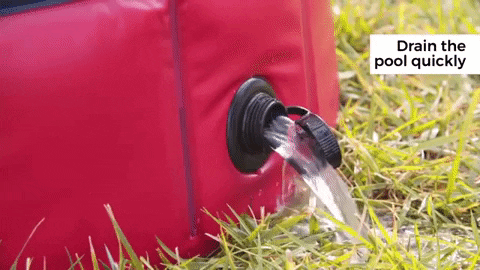 FEATURES
100% High-Quality Material
Easily foldable and compact
Can be quickly drained and water can be refreshed
Easily portable
Used as pet swimming pool, child tub and even for adults
Perfect summer product for pets to relieve from the heat
THIS PRODUCT IS NOT AVAILABLE IN STORES!
Due to the
enormous popularity
on social media, we expect to sell out quickly,
so be quick, because we're almost sold out!
Our customers recommend the Foldable Pet Swimming Pool and we support that with a risk-free 14-day warranty.

If for any reason you don't have a positive experience, we'll do EVERYTHING to make sure you're 100% satisfied with your purchase.

If you're not happy with the Foldable Pet Swimming Pool - no problem. We'll transfer the money back to your account. We have 24/7 email support. Contact us if you need help.
Specifications Foldable Pet Swimming Pool
| | |
| --- | --- |
| Material | Eco-friendly PVC |
|  Color | Blue/Red |
| Size | 160x3 0cm / 120x3 0cm / 80x20cm |
| Weight | about 7.5 kg/ 5.4 kg/ 2.7 kg |
| Thickness | about 0.45 cm |
Package Includes Foldable Pet Swimming Pool
| | |
| --- | --- |
|  1x | Pet Swimming Pool |
| 1x | Color Card |
Our Team Guarantees
Ensures you
safe payment

Ensures you
24/7 support


Ensures you
Satisfaction

Payment & Security
Your payment information is processed securely. We do not store credit card details nor have access to your credit card information.