---
---
14 days risk-free guarantee

Free shipping worldwide from $40

Available 24/7 for all your questions

Insured Delivery with Track & Trace
---
Description
Do you want to be ready for a summer look at the beach? Or you just want to be fit and healthy?
You are having a lack of confidence wearing skirts or skinny jeans because you want to have a toned body first before doing so.  You also want to have the best time at the beach and you want to wear your perfect outfit looking gorgeous and have a firm and toned body shape. You want to be active and stay fit but going to the gym seems to be not the right option at the moment.
Well, worry no more! The ToneUp™ Leg Thigh Exerciser is just the right product for you. A simple and affordable way to get your legs in the right shape and firmness.
This portable workout equipment is specially designed to firm, tone, and strengthen all areas of your body including your hips, thighs, buttocks, upper and lower arms, chest, stomach, and upper back. It is lightweight and compact enough to complete a quick workout in the comfort of your own home or office. Perfect for people of all ages and fitness levels!
✅ Tone Your Entire Body.
Limitless range of effective toning exercises for inner and outer thighs, upper back, triceps, buttocks, hips, waist, chest, arms, abs, and more. Great for stimulating blood circulation, losing fat, and gaining muscle strength.
✅ Compact And Lightweight Design
Easy for storage and convenient as a home gym workout equipment. If you travel around it's easy to add it to your baggage as it will not consume an entire backpack!

✅ Comfortable Grip 
The handles come with non-slip, soft EVA foam padding, giving you a comfortable grip experience while protecting your safety.  You can complete a full-body exercise without needing multiple workout devices with these Leg Thigh Exercisers!
✅ High-quality Trainer
Made with high-quality spring-loaded steel core, durable plastic, and covered with comfortable EVA foam. It will not hurt your legs or arms while using it.

✅ Never worry about electronic interference or noise caused by the device
The ToneUp™ Leg Thigh Exerciser is different from the other brands where it requires connection to the electronic system. The ToneUp™ Leg Thigh Exerciser has its own simple mechanism that is noise and electronic interference-free!
✅ Highly durable
Never worry about heat, dirt, and time affecting the quality of the product. Our ToneUp™ Leg Thigh Exerciser is highly durable and can withstand heat and dirt. Even if you use it every day it will still work for a long time.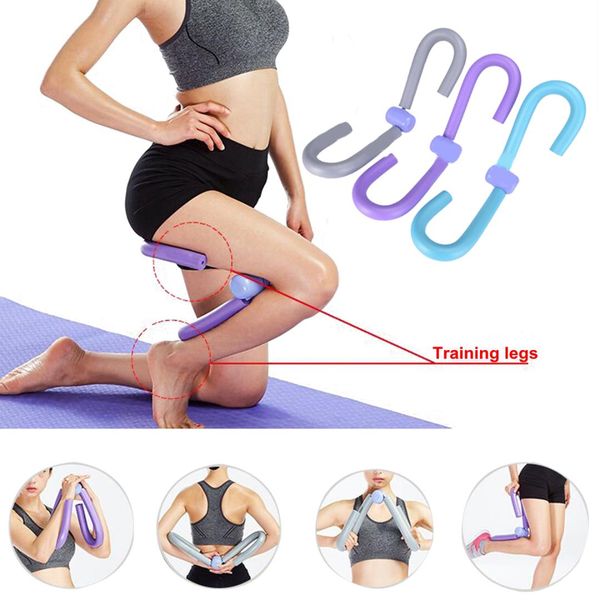 ✅ Affordable
Aside from the fact that our ToneUp™ Leg Thigh Exerciser is better in terms of durability, we give you the best and affordable price with a guarantee of the satisfaction that you deserve. 
✅ Over 900+customers love it! 
We have sold 900+ units of our ToneUp™ Leg Thigh Exerciser in a month across 5 different countries and our customers love it! We have had repeat customers buying multiple devices to fit all their cars at home. We know the demand so we are offering our product at a 30% discounted price than the other generic devices. We have limited stocks left, so take advantage of this offer now before it is too late!
How To Use :

Step 1: Lie down on your back on a yoga mat.

Step 2: Bend your knees to about a 45-degree position. Your feet should be flat on the floor.

Step 3: Place the thigh toner between your inner thighs. The thigh toner should be positioned so that it looks like an upside-down "V."

Step 4: Squeeze your thighs together. Even if the thigh toner moves in only a couple of inches, you still will be working your thigh muscles. Work to squeeze more forcefully, making the thigh toner move farther inward, as you use the equipment over time.

Step 5: Complete 15 to 20 repetitions. To increase the intensity, perform slow repetitions or pause at the top of the squeezing motion during each repetition.

Step 6: Enjoy and feel great with a toned and well trained body with the ToneUp™ Leg Thigh Exerciser as a trainer.
LIMITED STOCK
Due to the
enormous popularity
on social media, we expect to sell out quickly,
so be quick, because we're almost sold out!
Our customers recommend this product and we support that with a risk-free 14-day warranty.

If for any reason you don't have a positive experience, we'll do EVERYTHING to make sure you're 100% satisfied with your purchase.

If you're not happy with this product - no problem. We'll transfer the money back to your account. We have 24/7 email support. Contact us if you need help.
Our Team Guarantees
Ensures you
safe payment

Ensures you
24/7 support


Ensures you
Satisfaction

Payment & Security
Your payment information is processed securely. We do not store credit card details nor have access to your credit card information.