---
---
14 days risk-free guarantee

Free shipping worldwide from $40

Available 24/7 for all your questions

Insured Delivery with Track & Trace
---
Description
Looking for a hose to bathe your anxious pet ? We have a two-in-one product that will not only act as a hose but also as a scrubber!
Try our Pet Hose Scrubber and see how easy it is makes your pet's bathing routine!
Intended for maximum cleaning power and penetration of thick fur, targeted spray for gentle cleaning and all areas. remove your pet hair effectively and reduce stress during bath time for anxious pets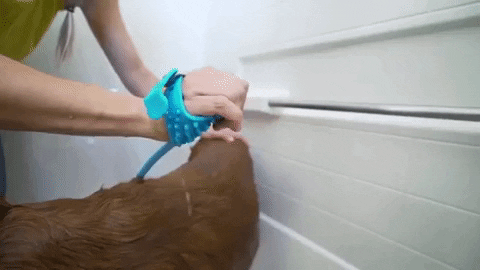 One Size Fit All
Professional dog shower, unique contoured shape designed to wash dogs of all sizes and types. This handheld sprayer comes with 7.5 feet long hose and 2 hose adapters 0.6 inch standard faucet, access to the bathroom or garden to access water.
Full Cover Water Spray
It has maximum cleaning power and can penetrate the thickest fur.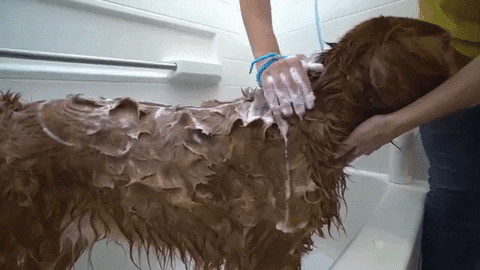 Ergonomic design
One-size-fits-all design straps securely to either hand.
Great performance
Slim and flexible sprayer in Palm allows you to control your dog with both hands while soaking the densest of fur.
Pet Comfort
Innovative design reduces spraying water, speed up bath time, and reduces stress for anxious pets.
Compatibility
It includes adapters for connecting to shower bath tub and outdoor garden hose.
Features
100% high quality material
A two-in-one product, bathe and massage at the same time
Convenient to control
Install and remove easily
Reduces water and shampoo consumption
Suitable for: Dog, Cat, Horse
THIS PRODUCT IS NOT AVAILABLE IN STORES!
Due to the
enormous popularity
on social media, we expect to sell out quickly,
so be quick, because we're almost sold out!
Our customers recommend the Pet Hose Scrubber and we support that with a risk-free 14-day warranty.

If for any reason you don't have a positive experience, we'll do EVERYTHING to make sure you're 100% satisfied with your purchase.

If you're not happy with the Pet Hose Scrubber - no problem. We'll transfer the money back to your account. We have 24/7 email support. Contact us if you need help.
Specifications Pet Hose Scrubber
| | |
| --- | --- |
| Material | ABS + Silicone |
| Color |  Blue |
| Tube Length | 98.5 in / 250 cm |
| Weight | 14.9 oz / 422 g |
Package Includes Pet Hose Scrubber
| | |
| --- | --- |
| 1x | Pet Hose Scrubber |
|  2x | Faucet adaptor |
Our Team Guarantees
Ensures you
safe payment

Ensures you
24/7 support


Ensures you
Satisfaction

Payment & Security
Your payment information is processed securely. We do not store credit card details nor have access to your credit card information.