---
---
14 days risk-free guarantee

Free shipping worldwide from $40

Available 24/7 for all your questions

Insured Delivery with Track & Trace
---
Description
Tired of cleaning dirty floors after your pet enters the house with dirty paws? We have the perfect solution for you! Our Pet Paw Cleaner is exactly what you need!
Never fear your adventurous pup's dirty paws again!
If you have a pet that is adventurous and loves playing around outside, you know that dirty paws are a no-no inside houses. Let our Pet Paw Cleaner change your life! It's super fun and easy to use---like a paw-sanitizer for your pets! The soft but durable bristles quickly remove any mud, sand, dirt, or grass from your pup's paw making it squeaky clean!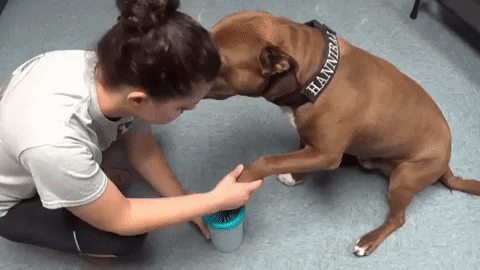 Practical Design
Our paw cleaner consists of a brush and a cup, these two parts are removable. The soft silicone brush offers a comfortable care for your animals. If you want to wash the animal paws, all the washing is just like a gentle massage. The product also helps you to keep your furniture, sofa, carpet etc. always clean and protect the health of your animals.
Safety Durable & High Quality
The Pet Paw Cleaner is made of eco-friendly material, BPA free high elasticity soft silicone inner cushion for cleaning and protecting paws, which is resistant to falling and wear-resistant. And never hurt your pet's paw. The outer body of the pet paw washer cup is made of anti-skid material, it helps you easier to grip and rotate the cup.
Gentle Silicone Bristles
The built-in soft gentle and effective silicone bristles help remove dirt, sand, and mud from your dog's paw and no damage to the fur; it won't irritate or injure your dog's paws in the process of using. The soft silicone brush massages the paw while cleaning, lets your dog enjoy it.
Easy to Use
First pour a little water and washing-up liquid into it, then guide your dog to put his paw in the cup one by one, turn the paw cleaner back and forth to clean the paws. Finally, empty the dirty water and dry your dog's paws with a cloth.
Easy to Clean
The paw cleaner can be easily cleaned with water. The cup and brush are removable, so you can also open the product and take out the silicone brushes to make it more clean. Let it dry before using again.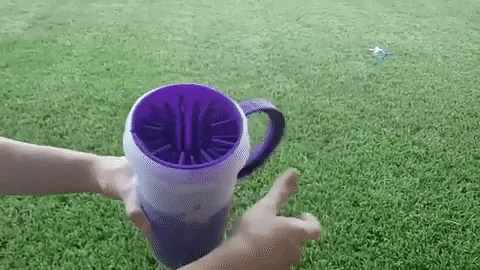 Features
High-quality silicone material, soft and comfortable
Smart and unique jar cup shape.
Easy to use, more efficient cleaning and reusable
Thoroughly removes all dirt, mud and sand in between the claws
Suitable for small or large dog
THIS PRODUCT IS NOT AVAILABLE IN STORES!
Due to the
enormous popularity
on social media, we expect to sell out quickly,
so be quick, because we're almost sold out!
Our customers recommend the Pet Paw Cleaner and we support that with a risk-free 14-day warranty.

If for any reason you don't have a positive experience, we'll do EVERYTHING to make sure you're 100% satisfied with your purchase.

If you're not happy with the Pet Paw Cleaner - no problem. We'll transfer the money back to your account. We have 24/7 email support. Contact us if you need help.
Specifications Pet Paw Cleaner
| | |
| --- | --- |
| Material |  Silicone/Plastic |
| Color | Blue/Orange |
| Type | Pet Cleaning Brush Cup |
| Target | Dog/Cat |
| Small | 9.3cm * 7.2cm * 5.5cm |
| Medium | 11.2cm * 8.2cm * 6.3cm |
| Large | 15.2cm * 9.2cm * 7.3cm |
Package Includes Pet Paw Cleaner
Our Team Guarantees
Ensures you
safe payment

Ensures you
24/7 support


Ensures you
Satisfaction

Payment & Security
Your payment information is processed securely. We do not store credit card details nor have access to your credit card information.