---
---
14 days risk-free guarantee

Free shipping worldwide from $40

Available 24/7 for all your questions

Insured Delivery with Track & Trace
---
Description
Create your woodcarving masterpieces in no time!
To unleash the artist in you, it starts with having the right set of woodcarving tools. The ergonomically designed handle of this Wood Carving Hook Tools Set makes your hands easier when doing hand carving projects.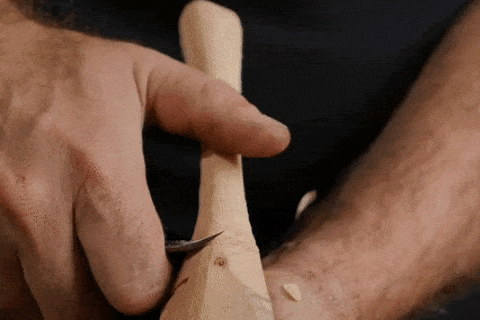 The handle is made of high-quality wood. The unique blade slot design to lock the blades in the handle firmly. Ideal for beginners to learn basic carving techniques. 

The hook cutter works perfectly for concave carving; t
he cutter is designed for whittling and roughing wood out; t
he detail cutter is designed for delicate wood cutting. 
FEATURES:
EASY TO HOLD & USE
The handles are Ergonomically Designed and made of Ashwood, which will allow you to work many hours without feeling fatigued. Simple to begin spoon, cup, bowl, or kuksa carving. 
PREMIUM QUALITY WOOD CARVING KIT
High quality and durability guaranteed! Razor sharp blades right out of the box are made of carbon steel and will serve you years of whittling wood.
CLOTH ROLL BAG
Comes with a compact canvas roll up bag which has individual slots for each carving tools, offering the maximum protection and organization, giving you the freedom to take them & use them anywhere!
LIMITED STOCK
Due to the
enormous popularity
on social media, we expect to sell out quickly,
so be quick, because we're almost sold out!
Our customers recommend the Wood Carving Hook Tools Set and we support that with a risk-free 14-day warranty.

If for any reason you don't have a positive experience, we'll do EVERYTHING to make sure you're 100% satisfied with your purchase.

If you're not happy with the Wood Carving Hook Tools Set - no problem. We'll transfer the money back to your account. We have 24/7 email support. Contact us if you need help.
Our Team Guarantees
Ensures you
safe payment

Ensures you
24/7 support


Ensures you
Satisfaction

Payment & Security
Your payment information is processed securely. We do not store credit card details nor have access to your credit card information.