---
---
14 days risk-free guarantee

Free shipping worldwide from $40

Available 24/7 for all your questions

Insured Delivery with Track & Trace
---
Description
Do you love puzzles or building models? Why not combine both?
Then our marble run is just the right challenge for you! The perfect combination of puzzle and model making.
Relax!
Reduce stress!
Train your brain!
Refine your skills!
The perfect gift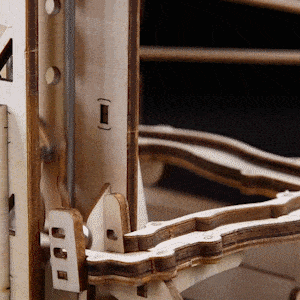 You build your own machine out of wood. Complete this DIY set with your dexterity and skill. The design is perfect, is manufactured by exact laser cutting technology, is safe and pleasant in the processing. Everything you need is included.
---
Thousands of satisfied customers and our service have made us the No. 1. Thank you! 
⭐⭐⭐⭐⭐
---
Convince yourself of the outstanding quality!
---
Relaxed puzzling to reduce stress and then it has a meaningful use as artful decoration. It trains the brain and helps to understand mechanical contexts.
---
Facts, Figures & Data!
The right gift for every occasion. For grandparents, parents, children or friends - for Easter, birthday, Christmas, New Year or Valentine's Day. You do everything right with it.
227 perfectly laser-cut wooden components
Contains all parts incl. marbles etc.
Metal axles - no toothpicks!
Detailed illustrated instruction manual
Frequently Asked Questions
Q: Are the models also suitable for children?
A: Children between 8-13 often assemble the models under supervision. From the age of 14, children can usually assemble the models on their own.

Q: Will there be a motorized version of the marble run?
A: Yes - we will offer an UPDATE for existing marble tracks next year. A Plug&Play solution will add a motor. All customers who have bought a marble track will be informed 8 weeks before release and can buy it at a preferential price.

Q: How is the marble run driven?
A: With a small smooth-running crank.

Q: How fast will the model be shipped?
A: We ship within 48h.

Q: Do I need glue to assemble?
A: No - no glue is needed. All models are connected by plugging.

Q: Do I need additional tools or materials?
A: No - it's all included in the kit for assembly.
Our Team Guarantees
Ensures you
safe payment

Ensures you
24/7 support


Ensures you
Satisfaction

Payment & Security
Your payment information is processed securely. We do not store credit card details nor have access to your credit card information.